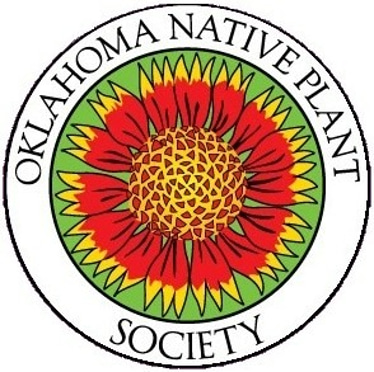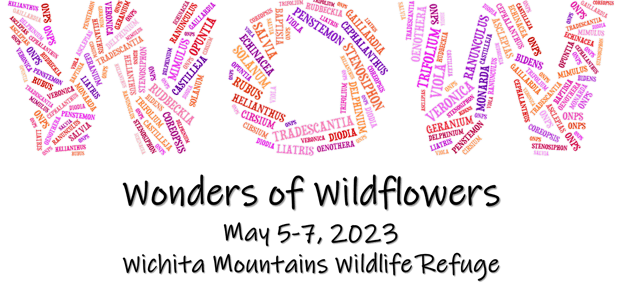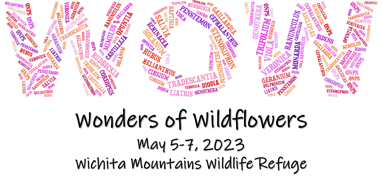 The Oklahoma Native Plant Society is hosting its annual Wonders of Wildflowers weekend May 5-7, 2023 at the Wichita Mountains Wildlife Refuge and nearby Medicine Park. Online registration is closed. On-site registration (without meal option) will be available.
Tentative Schedule of Events
Friday, May 5
6 pm to ? Reception and socializing Medicine Park, OK. Tentatively at Old Plantation Restaurant bar area.
Saturday, May 6
Breakfast on your own

8:30 am Botanizing Walk #1 Environmental Education Center (see map)

10:30 am Botanizing Walk #2

Lunch Boulder Cabin Picnic Area on the Refuge

1:30 pm Botanizing Walk #3

3:30 pm Botanizing Walk #4

6:00-9:00 pm Dinner @ Museum of the Great Plains, 601 NW Ferris Ave, Lawton OK, in Elmer Thomas Park. Enter at 6th or 7th St on Ferris Ave.

6:30 pm Presentation by Connie Murray "Doyle McCoy's Wildflowers". Connie will give commentary and show the original slides used by the late Cameron Univ. Botany professor Doyle McCoy in his groundbreaking "Roadside Wildflowers of Oklahoma" book published in the 1970s.
Sunday 7th (optional)
Breakfast on your own

9:00 am ONPS Board meeting. Environmental Education Center, Quanah Parker Lake on the Refuge. All are invited.

~11:30 Botanizing on the refuge

Lunch on your own
*** The refuge and facilities will be busy. Times/locations may change, therefore, all attendees must provide an email for updates, or will need to monitor the situation actively so as not to be left out. For questions, contact Joe at oknativeplants@yahoo.com or (405) 820-6851.
Directions:
For directions to the Wichita Mountains Wildlife Refuge from your location, click on the interactive map below.

Watch for ONPS Signs
Lodging Options: Visit recreation.gov for information on camping in the Wichitas. MedicinePark.com has complete listings of lodging options, including numerous Airbnbs, VRBOs, cabin rentals, and area hotels/inns.